The Key Ingredient in Stop-and-Frisk Reform: Open Data
Earlier this month, the American Civil Liberties Union of Massachusetts sued the Boston Police Department, demanding that they turn over recent years' data on police stops to address concerns that people of color are being overpoliced in the city.
"It's true that we already know enough to implement serious reform," emails Matthew R. Segal, legal director at the Massachusetts ACLU. "But it's equally true that police departments and public officials can be resistant to reform, and getting more current data could help to overcome that resistance."
A dearth of data on police conduct has drawn heightened criticism amid nationwide protests against abuse and use of force, particularly against black people. Police departments, a cynic might reason, might resist releasing such data because it can shine a light on places where law enforcement would rather not look. And the goal here is indeed to illuminate abuse where it exists, contextualize individual stories, transform public debate, bolster legal challenges and, ultimately, help change policy.
Data already helped end mass stop-and-frisk in New York
In 2001, the New York City Council passed legislation mandating that the NYPD produce written reports on stops and frisks in the wake of the high-profile 1999 police killing of Amadou Diallo, an unarmed Guinean immigrant. Then in 2006, Sean Bell, a 23-year-old black man, died in a hail of 50 police bullets on the eve of his wedding. It was at that time that the New York Civil Liberties Union learned that NYPD had stopped providing the Council with reports, and demanded that they comply. The next year, the department finally relented and released the reports.
The upshot was bracing: stop-and-frisk numbers had soared under the administration of Mayor Michael Bloomberg from 97,296 stops in 2002, the last year for which annual figures had been made available, to 508,540 in 2006. Stops would peak at a staggering 685,724 in 2011.
But that data, presented not in its raw form but as reports filtered through NYPD analysis, was limited. And so, in 2007, the NYCLU sued to compel NYPD to turn over the actual stop-and-frisk database and, the following year, a New York state judge ordered that they do so. The raw data allowed advocates and researchers to drill far deeper.
"With those [first] reports, you could do nothing more than some limited (and cumbersome) calculations about a narrow set of stop and frisk information," emails NYCLU Associate Legal Director Christopher Dunn. "By contrast, with the database, we had a complete set of raw data about every individual stop that we could analyze in a million different ways because we had details about each stop, the person stopped (race, age, and gender), the circumstances of the stop, whether a frisk took place, whether force was used and if so what type of force, whether weapons were recovered and if so what weapons."
One illuminating data point uncovered by NYCLU: young black men were stopped more times in 2011 than there are young black men in New York.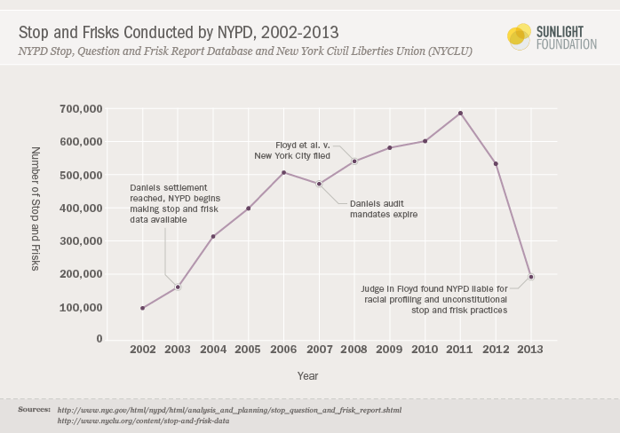 (Sunlight Foundation)
In August 2013, a federal judge struck a fatal blow to New York's stop-and-frisk policies, delivering a strong ruling in favor of a class action lawsuit challenging the program. Statistical analysis performed by the Columbia University legal scholar Jeffrey Fagan proved critical, leading the judge to conclude, among other damning findings, that a minimum of 200,000 individuals had been stopped without reasonable suspicion articulated between January 2004 and June 2012, and that an area's racial composition was a stronger predictor of the rate of stops than its crime rate. (Between January 2004 and June 2012, just over half of all stops were followed by a frisk for weapons; a weapon was found just 1.5-percent of the time.) The judge even found Fagan's analysis to be too conservative.
"Empiricism was star of the show in Floyd in the sense that the case was largely driven by 'big data,'" writes Yale legal scholar Tracey Meares in a recent paper.
Data had allowed the NYPD to implement stop-and-frisk, pushing pressure down the line for subordinates to show activity, elevating quantity of police actions over quality. But the Center for Constitutional Rights ultimately dug deeper into the numbers, and came out on top.
"NYPD's ability to track its productivity by looking to the forms officers used to document their stops, forms called UF-­‐250s, was the foundation of its claim that more stops meant less crime," writes Meares. "The UF-­‐250s were critical to the plaintiffs' case as well. Through close analysis of the forms that the NYPD used to track stops, the Center for Constitutional Rights was able to show that a critical percentage of the stops did not meet Fourth Amendment standards, even though the majority of the stops did. Moreover, the Center used the same data to construct its argument that the NYPD was engaged in a racially discriminatory policy and practice in violation of the Fourteenth Amendment."
Before the ruling, officers making stops were required to check off boxes to demonstrate that they had "reasonable suspicion" (such as "Fits Description," "Suspicious Bulge/Object," "Furtive Movements") and, according to a paper by Fagan and sociologist Amanda Geller, come up with "scripts" that satisfied their supervisors. Check list items became "handy bins of suspicion that judges can easily understand to satisfy constitutional review," and encouraged a system by which officers could "give plausible accounts of their actions that minimally conform to the requirements of training and law."
So in this case, the data cut both ways, pushing police work in a direction that despite cookie-cutter rationales violated the constitutional rights of many, and later, unmasking that program and helping to shut it down.
Big numbers convey big policing problems
The annual number of stops-and-frisks in New York had already begun to plummet dramatically before the lawsuit was won, falling to 532,911 stops in 2012, 191,558 in 2013 and 46,235 the year after. That's in part because big headline numbers play a critical role in fomenting public outrage, perhaps none more than the 2012 revelation that NYPD had conducted a record 680,000-plus stops the prior year, more than half of those justified on the vague basis that a suspect made "furtive movements."
But by no means did making data public accomplish criminal justice reform on its own. Rather, data stoked public outrage, and that outrage fed an appetite for more data and analysis—and so on, and on—prompting criticism from The New York Times and then-NYC Public Advocate Bill de Blasio and, ultimately, official moves to rein in the practice.
When it comes to police killings, the individual cases of Michael Brown, Eric Garner and others have driven the debate. Broad-based data on shootings, however, have been difficult to come by, as the Times recently investigated (the frank headline: "Data on Use of Force by Police Across U.S. Proves Almost Useless") because there is no systematic nationwide data recorded or provided to the federal government.
The discussion around stop-and-frisk, however, has more often taken place at the aggregate level, combining millions of individual experiences with police into a comprehensible statistical mosaic. Fagan's analysis for the New York lawsuit, writes Meares, addressed a basic mismatch that prevails between the individual level at which police stops are typically evaluated by courts under the landmark 1968 Supreme Court case Terry v. Ohio, and the programmatic manner that police departments actually implement them on the streets.
"Despite the fact that most stops likely are constitutional when measured individually under Terry," writes Meares, "when a mass of stops are considered in the aggregate, the data make clear that police are not investigating people they suspect to be committing particular crimes in progress, but are, instead, proactively policing people they suspect could be offenders. The data show that the 'suspects' police encounter the vast majority of the time do not possess guns or contraband, are never arrested, and are very rarely processed criminally."
Still, many cities have not provided useful data on these types of stops, making the nature and scope of the problem virtually impossible to comprehend. And this particular problem is an incredibly important one to understand: many arrests, shootings, and beatings begin with a simple stop.
You can't fix what you don't understand
In Boston, researchers recently finalized a report compiled at the request of both the police department and the ACLU analyzing so-called field interrogation/observation/frisk and/or search, or FIOs, from 2007-10. They found that the incidence of crime heavily influenced stops but that, controlling for other factors, "the percentage of black and Hispanic residents in Boston neighborhoods were also significant predictors of increased" stops.
FIOs have already been dialed down in Boston. Stops decreased by nearly 42 percent since 2008, Boston Police said last year, and in July, the department announced that officers would specify the reason for their stops (between 2007 and 2010, the rationale provided in three-quarters of stops was simply that the person needed to be investigated). But the ACLU says that more current information that the department is still withholding, dating back to 2011, remains important in determining whether people's rights have been violated in the interim.
In cities around the country, advocates are using data, or fighting for access to it, in an effort to rein in abuses. This is perhaps now true nowhere more than in Chicago, where the ACLU of Illinois released a report in March finding that during a four-month period in 2014, police had initiated more than four times more stops per capita than the NYPD did during those same months at that city's 2011 peak. The data was revelatory because Chicago did not begin collecting useful data on stops until April 2014.
The ACLU also found that in half of all stops from a 2012 and 2013 sample, police articulated a rationale with no legal basis, like that the person had walked away from police or that they were merely "suspicious."
The result was swift if still uncertain. As part of an agreement between the ACLU and Chicago Police announced this month, Chicago will improve its data collection and submit to oversight by a retired federal magistrate judge.
(ACLU of Illinois)
Data alone, however, does not solve all problems or answer all questions. When it comes to stop-and-frisk, showing that black men are disproportionately more likely to be stopped does not suggest bias in a context where black men commit more crime; it takes statistical analysis to show that these stops, as a whole, are biased and unconstitutional. And that's exactly what Fagan proved in New York.
"Just making the data public doesn't answer the questions that I think need to be answered to go beyond merely describing the situation," says Fagan. "There's a level of detailed analysis and testing… at some point they probably want to get involved with people like me."
There are political pressures too, of course, that data cannot overcome on their own. Some departments won't change unless overwhelming legal or political pressure is applied. The Los Angeles Police Department, according to the Sunlight Foundation, had been required to produce data on stops thanks to a consent decree with the U.S. Department of Justice—and then stopped doing so once it expired. The same thing happened with Metropolitan Police Department use of force data in Washington, D.C.
In 2011, the City of Philadelphia agreed to improve its data collection and analysis as part of a consent decree settling a lawsuit. Civil rights lawyers would never have been able to bring that lawsuit without access to the data, according to ACLU of Pennsylvania Deputy Legal Director Mary Catherine Roper. Philadelphia police, says Roper, began to fill out stop forms because of a 1990s lawsuit, and it was that data that made it clear that stops had skyrocketed under Mayor Michael Nutter and Police Commissioner Charles Ramsey.
As a result, civil rights lawyers' most recent report found that 37 percent of stops had been made without reasonable suspicion, a slight improvement from prior reviews. The ACLU and civil rights lawyers from Kairys, Rudovsky, Messing & Feinberg warn of further legal action to force more substantial improvements. Data helps demystify the reality of policing. People, then, must act to change it.