Guest post: 6 top tips for building a smart city with data
By Dr Julia Glidden and Susie Ruston McAleer
How do you make open data an achievable reality for every city, regardless of its size or budget?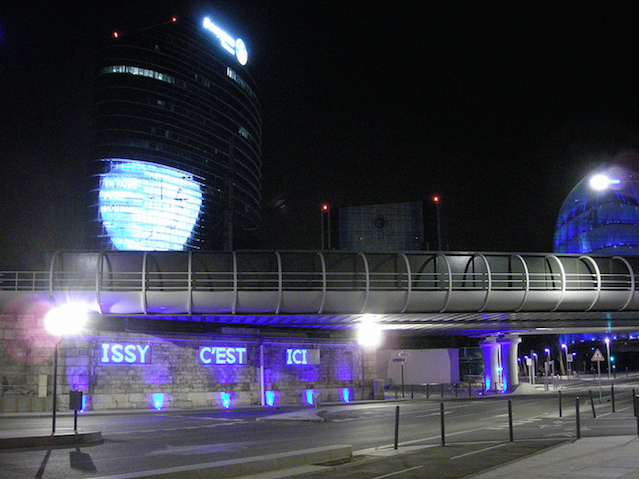 Technology hub Issy-les-Moulineaux, Paris, opened over 75 datasets and created new apps, following open data guidelines and interactive workshops. CC BY 2.0, uploaded by couscouschocolat.
That's the question Citadel on the Move set out to answer five years ago. The £4M project, funded by the European Commission, has since helped over 140 local government organisations across six continents open and use data.
While initial visions of the smart city centred around a tech-driven, top-down approach that placed government firmly in the driving seat, in recent years a more collaborative, bottom-up vision has begun to emerge. Within this more 'human-centric' conception, a truly 'smart city' is seen as one that uses the full range of new technologies like social media, mobile phones and open APIs.
A smart city will use these technologies to gather knowledge and data from urban settings, open up the data in order to solve problems, co-create value with citizens and become 'smart' in the process. Under this new paradigm, citizens and governments are seen as equal participants in the creation of innovative new data-driven solutions to urban challenges.
From navigating the minefield of open data obstacles to making a local area a magnet for data-driven businesses, our work on Citadel has highlighted a number of key ingredients for smart city success.
Strong leadership
First and foremost, smart cities are supported by clear leadership and a desire or need to innovate. The policies and key IT infrastructures might not be in place, but if a city's leadership has the vision and drive to help unlock the power of open data and innovation, the rest of the pieces are likely to fall in order.
Issy-les-Moulineaux, a small city on the outskirts of Paris with a strong reputation for technological innovation, recognised the value of open data but lacked the internal capacity and expertise to kick-start an open data culture. By following practical guidelines and interactive workshops, Issy was able to open over 75 datasets and create new apps in areas ranging from trees to tourism. Building on this work, Issy has recently partnered with OpenDataSoft, one of France's top internet startups, to install a stand-alone open data platform, and release a novel new financial transparency app) which can be used by other local government entities around the world.
Based on our experiences with Athens and Issy, alongside all our other partners and associates, we've drawn up a simple set of business recommendations for Local Authorities everywhere to open their data and build a smart city.
Understand your business case for opening data, whether it's to boost transparency, generate cost savings or unlock innovation. This knowledge will help you form your own objectives.
Once your business case is in place you should start opening data as soon as you can, to avoid your city being left behind the technology and policy curve.
Ensure your data is broadly compliant with industry standards and will be re-usable. Citadel offers detailed recommendations for local government on open data, formats, structuring and licensing.
To ensure you unlock the value hidden within your data, create a local data ecosystem of tools and guidelines that will help your community use your data. You can find resources for both novice and experienced developers here.
Understand your community and their needs to ensure you engage them and incentivise participation accordingly – from simple public thank yous and recognition via social media to cash prizes for developing services to solve specific challenges.
Be prepared to come up against usability challenges, and help your community to mitigate common problems.
This can be done in various ways:
a) Use our convertor to easily create data files that developers can access and use to create new services.
b) Avoid character coding challenges in non-English datasets by saving Excel or CSV files as UTF-8.
c) Use freely available Geo batch coders to add latitude and longitude coordinates to address data so it can be represented in map form, using our Application Generator or other visualisation tools.
d) Use recognised open licences, such as Creative Commons 4.0, so your community is in no doubt that it can use your data for innovation without restriction.
e) Add new datasets to your ecosystem by gaining buy-in throughout your authority. Use tools like the 'Apps4Dummies' workshop to quickly demonstrate open data value to leadership.
f) Share any new developments with your community and the wider Citadel community.
Over 5 years, Citadel has seen first-hand how uneven 'starting' positions with open data are:
17% of Citadel's 140 Associates had no previous contact with open data
24% had little experience of open data (some data but no city portal or systematic release)
47% had some experience of open data (a city portal or systematic release but no clear policy on open data publication and updates)
12% had advanced experience of open data (a portal or systematic release and a policy of open data publication and updates)
Regardless of level of experience, however, the Citadel team has found one consistent theme: with the right leadership and support in place any city or town can become an open data advocate.
Dr Julia Glidden is President of 21c Consultancy and Senior Research Fellow at Vrije Universiteit, Brussels. Susie Ruston McAleer is Managing Partner at 21c Consultancy http://www.21cconsultancy.com. Follow @21cData https://twitter.com/21cDat*a on Twitter
If you have ideas or experience about open data that you'd like to share, pitch us a blog or tweet us at @ODIHQ